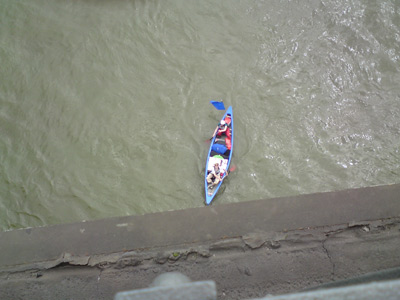 Birgit Binder and Caspar Pauli
Leerfahrt Rhein
2010
mixed media
Leerfahrt Rhein is an artistic journey down the river Rhine we completed in August 2010 for an exhibition at the art centre ArToll on the German/ Dutch border. Leerfahrt in English could mean vacant drive or journey.
Our Canadian canoe was filled up to its maximum carriage weight with daily and artist supplies for eight days. Yet our minds and outlooks onto this 200km long journey down the Rhine towards the North Sea were vacant of information about this river. We set out learning to install ourselves in mobility, balancing moment by moment and navigating with foresight.
The idea of the 'vacant mind' was motivation and momentum to take on this journey and its hardships, from pouring rain, thunderstorms, sudden darkness, 40km rides due to time table difficulties, to ink drawings accidentally soaked with the river's waves. The Rhine is an important water artillery in the centre of Europe, like many other rivers its use and meaning in especially urban everyday life is drastically changing: From a river admired by artists in the romantic times, to an industrial waste water abattoir to a central commercial shipping route and now a space rediscovered for free time activities like promenading and pickning on its banks or rowing and canoeing to even swimming. Opposed to many other mayor rivers its banks are public space throughout the federal state of Nord Rhein Westfalen.
As preparation for the journey we only packed our things. We did not gather information about this river from authored material like guide books, wikipedia or historic publications. During paddling in the midst of it all, during appointed interviews, conversations and encounters with numerous people on the rivers banks we gathered information and local knowledge, myths and anecdotes, which we assembled to a kind of encyclopedia following the chronology of our journey. All writing and remaining drawings were produced during the stops we made every 10 km. After the journey we installed these documents with all other remaining supplies in a final exhibition at the Arts Centre ArToll.
Birgit and Caspar are part of the artist group Varsity of Maneuvers (VofM). VofM have realized several canoe projects over th epast years, through which they explore (physical) accessibilty, political and social implications of rivers.
Canoe projects were carried out in Bristol, Manchester and Berlin.
Currently thy are working on their second canoe project in Berlin, which tries to map a part of the river from the perspective of a canoer. What kind of "river scape" and what kind history can be constructed through the perspective of the canoer in inner city Berlin? More information on this project will be publishe dshorty on their website, for the other canoe projects please also visit their website.