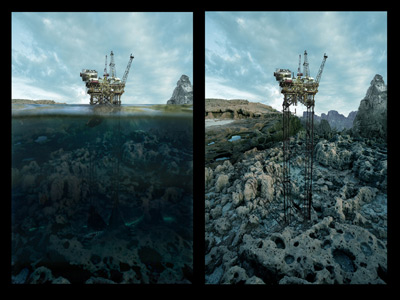 BARBARA NATI
a world beyond the world
2009
lambda print on foamboard
If the end came at last, if the slow but inescapable impoverishing of the Earth!s resources reached its apex, the fall would be a wildfire.
In "A World Beyond the World," digital artist Barbara Nati depicts a post catastrophic realm of unfamiliar landscapes and heterogeneous architectures, of nature drained away, reduced to rocks and deserts.
This geological poem roots out of the earthquake that shook Italy in 2009, which the artist felt on her own skin. This quake, like a ghost, haunted the people and the morphology of a huge area in the middle of the night. That was the underground movement of natural course ravening and tarnishing the historical presence of men.
Everything becomes landscape: the traces of presence pervade a space where wounded sea waters flow into a gorge where morning rays fade.
Nati!s discordant yet strangely beautiful images express a premonition of a coming end, survival, and ultimately the genesis of a new civilization.