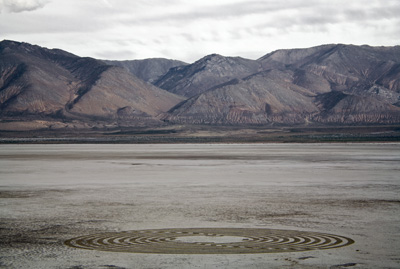 chris drury
Winnemucca Whirlwind
2008
Video
Photo of a large-scale drawing etched with a rake into the surface of Winnemucca Lake, a dry lake bed in the Nevada desert.
The lake was once home to a thriving natural ecosystem that sustained indigenous communities for at least 8,000 years. (In 1916 a new irrigation system was introduced diverting the waters of the Truckee River that fed the lake to newly developed agricultural land. The lake has since disappeared entirely.)
The installation symbolically reclaims the land for the Paiute people, its spiralling form (derived from a south western Native American Basket weave pattern) conveying the political and cultural whirlwind the people have been embroiled in for the past 100 years.