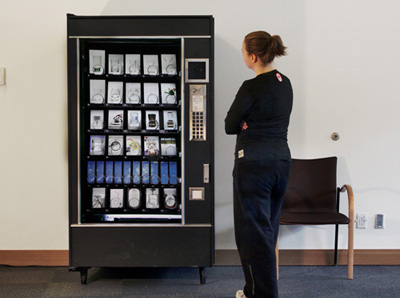 David Clark
Waterfall
2010
Interactive Public Sculpture
Waterfall is an interactive sculpture built in a vending machine. The theme of the piece is water and water use in our contemporary world. It uses new media to create an interactive experience for the viewer who is able to control the video using the keypad on the outside of the machine. The piece involves video that is triggered by the audience and sound that accompanies the video and the buttons as they are pushed. The machine does not take money and is free to use. This piece was a commission from the Canadian Wildlife Foundation for the Cultural Olympiad, Whistler, 2010.

Waterfall is a new work created by four Canadian artists: Kim Morgan, David Clark, Rachelle Viader Knowles and David Ogborn as a commission for the Canadian Wildlife Federation in order to engage new audiences through contemporary art. The artists were asked to address the urgent environmental issue of water use and to create a piece that would work within the context of the Olympics.
There is no podium or pedestal for this piece; you might have a hard time spotting it. Passing itself off as a vending machine, the work is, in fact, an elaborate interactive video sculpture, an intervention into public space that reminds its audience that water is a limited and valuable resource in our world.
The audience finding themselves in front of the vending machine sees that the usual array of candy, chips, and chocolate bars has been replaced by videos showing the way we use water on daily basis. Pressing the buttons causes each of these images to fall away, revealing a thundering waterfall, a powerful reminder of the force of water in the natural environment that is threatened by easy access to available water resources.

This work was the result of a collaborative process involving four diverse artists who drew on their backgrounds in public sculpture, performance, filmmaking, interactive digital media, and electronic music. Living in different cities and teleconferencing through Skype over a period of eight months, the artists also developed their ideas through interaction with environmentalists and members of the CWF. Waterfall has been exhibited at a number of diverse venues including: Whistler Live, Cultural Olympiad, Whistler, BC., Montreal Science Museum, QC., Museum of Civilization, Ottawa, ON, Elgin/St.Thomas 2010 International Plowing Competition, ON, Nocturne 2010 Festival, Halifax, NS, Royal Agricultural Fair, Toronto, ON and Third Space Gallery, Moncton, NB.