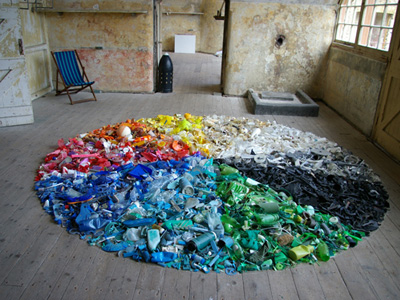 Fran Crowe
Future beach
2007 onwards
installation of found plastic marine debris, approx 4m diameter
In 2006, in response to a UNEP report*, Fran Crowe set herself a personal challenge to 'save' one square mile of sea by collecting 46000 pieces of marine litter whilst walking on local beaches near her home.

Fran makes huge installations with what she finds : visually stunning but with a shocking and unforgettable message. Future Beach presents just some of the plastic she has collected: a tongue-in-cheek but frank self-portrait of ourselves, a kind of contemporary - and disturbing - archaeological dig.

Often thought of as 'disposable', plastic is in fact nearly impossible to dispose of, taking up to 1000 years to break down in seawater and then forming microscopic toxic particles which continue to contaminate our seas, our beaches, our wildlife - and maybe even the food on our plate. It is becoming the beach.

Both fascinating and provocative, Future Beach questions our contemporary addiction to consumerism and its consequences - especially for the marine environment. Fran's huge - and growing - collection of found items has a global, not just a local, message: they are just a tiny proportion of the 6.4 million tonnes of rubbish that the US Academy of Science estimates enters the world's oceans every year.