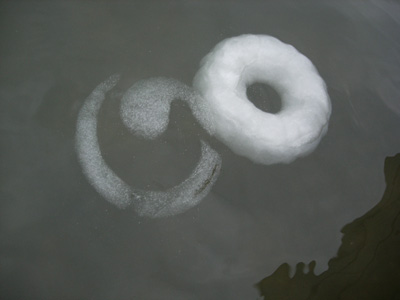 Jenny Brown
Tied, Mayday 2006
2006

performance, sound installation, video
"Tied" responds to the issue of rising tides on low-lying Pacific Islands. This work explores global economic questions through ideas on global warming involving personal experiences of cultural disconnection, memory loss & displacement, &, further, broader ethical concerns of deceit & powerlessness in times of accelerated change.

On Mayday 2006 the Indigenous owned & crewed "Deerubbun" was a floating gallery when moored at the Sydney Fish Market & a performance space when over two hundred frozen saltwater forms were placed from it into the calm waters of Farm Cove. People were invited to bring their own frozen dedications to contribute to the event. Pagan Mayday flower-giving rituals & Pacific Islander traditions of lei placing contributed to this idea. Varying in opacity, spiral ring & circular shapes bobbed up & down in the waves relating quite literally to our unstable frozen water reserves. Their gentle melting & washing away triggered ideas & emotions around temporality, erasure, loss & memory.

Video installations on the boat included interviews with Islander people from the Sydney Fishmarket & representatives from the Pacific Island Mount Druitt Action Network who described changes to their islands over recent years, expressing fears about displacement as well as cultural perspectives on memory. Concerns were raised about Australia's record of not granting refugee status as well as the treatment of people who have been granted refugee status. An audio installation heard on all areas of the boat included the slow gush of crashing ice sheets into water & dripping sounds, as well as an occasional boat engine that drones quite loudly at one stage to draw attention to fossil fuel consumption.

As a gesture of respect to those Islanders whose islands were represented on the banner at the end of the performance the Deerubbun circled five islands on Sydney Harbour.