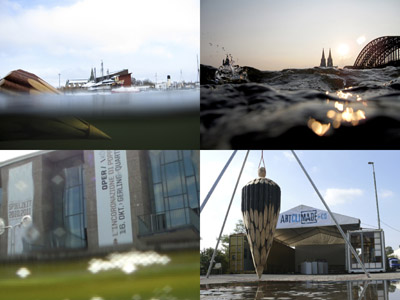 SILKE WALTHER, PARTLY WITH THOMAS RAPPAPORT
Changing Water
2008-2011
arranged sculpture, photography, video still, installation
Changing Water is an ArtClimateProject with various departures and is constantly developing. Up till now, photography, video, mixed media installations and sculpting are parts of the spectrum. Each part contributes to the different points of view, that artists have on climate change aspects, directly connected to water, even it's deficiency.
The Floating Sculptures work is a collaboration between media artist Silke Walther and sculptor Thomas Rappaport, dealing with subsequent global changes in water levels. Partly arranged archaic sculptures are telling stories about the specific time and space where the pictures are being taken. The Fishing Images by Silke Walther are showing perspectives closely from the water level towards the world we are living in –where water is often taken for granted and not even noticed.
Further collaborations with various artistic expressions are intended.