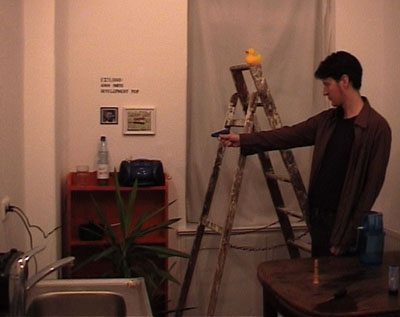 Dominic Hislop
Little Chance: Water Walk (after John Cage)
2007
Video
A transcendental approach to water privatisation: a reworking of John Cage's 'Water Walk' (musical composition first performed in 1959) performed to video in a domestic setting, decorated with images, text and audio voices representing key players and opinions in pro and anti water privatisation debates.
Props: Stopwatch, polaroid camera, mechanical dolphin, mechanical fish, party popper, water pistol, bubbles blower, iron, screwdriver, glass, metal pail, potted plant, stepladder, water carbonator, coffee creamer, rubber duck, ice crusher, wooden duck call, plastic duck call, bottle of whisky, cooking pot with lid, sink filled with water, shower, toilet flush, acoustic guitar, ice cubes, washing machine.
Framed Pictures: Gérard Mestrallet, (Chairman and CEO of SUEZ); Medha Patkar (Indian anti-dam and privatisation activist); Peter Brabeck-Letmathe (CEO of Nestlé); Oscar Olivera (Bolivian anti water privatisation activist); Captain John Komba (Tanzanian singer); Anti water privatisation protest banner, Ghana; Children carrying water, India; Various commercial bottled water.
Stenciled text: 'You're Going To Love The Future' (slogan from SUEZ commercial); 'There Is No Alternative' (Margaret Thatcher on privatisation); 'Enormous Growth Potential' (German Minister of the Economy on the partial privatization of Berlin's water supply); '7,000 x more expensive' (cost difference between Tucson municipal water supplies and municipal sourced bottled water); 'Human Right' (disputed terminology for water), 'Shrinking Resource' (only 1% of the world's water is available for drinking); '£273,000 Adam Smith Development Pop' (amount of UK development aid paid to UK consultants Adam Smith International to make a pro privatisation pop song and video in Tanzania).
www.bighope.hu/dominic/art/index.html