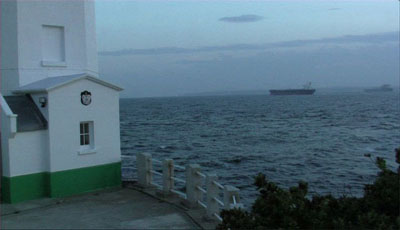 Gillian Holt
Do I dare to eat a peach
2007
Video HQ
Water is traditionally considered a passive medium; yielding, flowing, conforming but the sea tears actively, restlessly at the rocky shore eroding, wearing down the stony surface. It is only a matter of time.
A lighthouse standing erect on the cliff is a boundary marker, to a sailor it is both a warning and a comfort. Marking the boundary between land and sea it promises a safe return to terra firma but at the same time warns against the dangers of this turbulent zone and the threat of death and disaster in the transition from one medium to another. Change is always a dangerous process beset with hesitancies and reversals.
Filmed on the rugged Atlantic coast of England and in Berlin Germany this film presents a set of seemingly unconnected but intriguing situations which invite the viewer participate in the construction of a story.