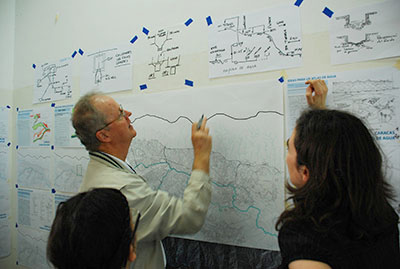 Caracas 2009
CARACAS CIUDAD DE AGUA
Symposium Universidad Simón Bolívar
After the success of the first exhibition in Berlin in 2007, the curator team of Bolivia Chacón and Benjamin Villares in association with the Goethe Institute in Caracas invited the Hydromemories project to be exhibited at the prestigious Museum of Contemporary Art.
The exhibition was included in the frame of "Caracas: City of Water", a symposium with internationally acclaimed guest speakers and participants organised by Glocal Studio Caracas and the Goethe Institute Caracas. The symposium consisted of 2 days of workshops and a conference discussing solutions to world water problems, at the two largest public universities in Venezuela: Simon Bolivar University and the Unidad Central de Venezuela. The exhibition opened at the start of the symposium and ran a total of 3 months gaining a tremendous response within artistic, educational and journalistic circles. Positive articles were written in almost all of Venezuela's art and diverse newsprint media, with the topical and educational value of the exhibition further underscored by the decision of many public and private schools to organize guided tours round the gallery for their pupils. The interventions and performances that were part of Hydromemories, but situated outside the gallery in public space were notable in their departure from a more static installation of public art commonly known in Venezuela. The public response to the construction of a 'beach' and the creation of a 'wishing well' at Plaza Altamira and Plaza Castellana, was enthusiastic and respectful. The obvious enjoyment at both being able to interact with, and therefore become part of the artwork, helped facilitate an exchange between the artists and public, which allowed a non-didactic discussion of the context of the works and an opportunity to spread an awareness of the work of the Engineers Without Borders.
download symposium programm